And so we've come to the last episode of Wild Romance – a pretty sad event since I enjoyed this one so much.  We focused on Yoo Eun Jae (Lee Si Young) – she is our heroine, after all – and what happened in the aftermath of the ahjumma's master plan.  This ending wrapped up nearly all of the storylines (at least the ones we care about) and I am pleased to report that it was pretty much happily ever after for everyone.  Even the ahjumma (kind of).
Poor Eun Jae – she went through a major angst fest that lasted up till the last inning of the drama (see how I am now using pseudo-sports metaphors?  Thank you, Wild Romance!).  We cut back a few minutes and saw that the ahjumma had actually switched all of their clothes except their shoes in order to confuse Park Mu Yeol (Lee Dong Wook).  How dastardly!  Her plan was as layered as Eun Jae's outfits.  All along she was planning to kill the woman he really loved, and make him regret it for the rest of his life, as well as to make the woman he saved regret it for the rest of her life.  I guess misery loves company – or crazy people like other crazy people.
It looks like Mu Yeol meant to save Kang Jong Hui (Jessica) since when he pulled Eun Jae out he looked confused (but note: his facial expressions are really hard to read).  So of course Eun Jae despaired for the entire episode, letting her own insecurity mix in with the ahjumma's evilly seductive words, Mu Yeol's past ramblings on fate, and also what she thought she saw happening.  So when Mu Yeol tried to be affectionate she could barely keep it together.  This led to an actual fight between them, with him even showing up at her house and braving her big-headed father and brother (what a nice Partner reunion for Lee Dong Wook and Lee Won Jung!).
He reframed the fight by being angry at her for doubting him at all.  Didn't he say he liked her?  Her brother and father were so funny when they heard his declaration – they're not such Seagull's fanatics that they disapproved of him.  She could only ask him why he saved her – but this wasn't the right question for her to ask.  And so he said they should take a break while he went to training camp.  I could handle this angst since it came from a more real place.  I hate angst just for the sake of angst, you know?
Ok, even knowing the ending, Mu Yeol really aggravated me in this episode.  Is it really so hard to understand how she might be unsure?  I see why there is usually a second guy in these K-dramas – to keep the main guy from getting too complacent.  But I did agree with him when he said that he wouldn't even bother to explain himself because with the way she wasn't trusting him, she wouldn't have believed anything he said.  True, but he's still lame.  A less incredibly likable actor than Lee Dong Wook would have made me completely hate his character.  It also helped that everyone knew who he really liked – Jong Hui, Jin Dong Su (Oh Man Seok), even the ahjumma.  Her creepy smile while in jail shows that she knew exactly how she was screwing with Eun Jae, I think.  And her repeating that phrase about a princess' love versus a witch's love makes me realize why she stuck to copying other people's poems and not writing her own.
I was actually ok with their time apart, as they both grow as people before they are reunited, since it was logical and not just a clunky plot device – he has training, she needs time to detox from her issues and getting tazed.  So fast forward a month or so later, and people's lives have changed.  How does the drama wrap up everyone's story?
I'll start with the people I care least about.  So Dong Su and his wife, Oh Su Yeong (Hwang Sun Hee), are still their angsty selves, though I'll give it to them that they have reason to be.  They have now retired to the countryside, just as Su Yeong had wanted all along before she took a ride on the crazy train, conducted by the ahjumma.  If only Dong Su had listened to his wife earlier.  No, I know that she had to face her demons before she could move on, but maybe without the extenuating circumstances that would have just involved sullenness and not slashing paintings.  I still think they were a super weird couple whose maturity really didn't fit in with the rest of the weirdos of this drama.  I guess they provided balance.  Oh Man Seok didn't really impress me with much other than his creepiness, but that's a skill.  Hwang Sun Hee was kind of the same as she was in City Hunter – very mild-mannered and a little boring.  She's set to be in a daily next, and I'm not too surprised.  Maybe then her grown-up romances won't be so out of place.
Jong Hui stayed classy till the end.  I couldn't help but like her after she pretended to have amnesia right after she woke up in the hospital.  Good one!  I guess there was enough drama in the drama without having a wacko second girl, so the drama allowed her to leave gracefully.  She seemed to understand just how much the ahjumma had taken away from her early on when she had stolen her couple ring, but she let it go.  She couldn't even explain it to Mu Yeol who just didn't put two and two together.  It was poignant how they were on such different wavelengths – no wonder they broke up.  Jessica didn't really stand out much, but I guess I wouldn't have thought she was an idol.  I was more impressed with her band mate Yoo Na's performance in 9 End, 2 Outs, but maybe that's like apples and oranges.
And poor Seo Yuni (Hong Jong Hyun) – you're really dead.  He was only mourned by his grandmother, the one he didn't like touching his stuff.  It wasn't even that sad since he didn't seem to like living much, but still.  Hong Jong Hyun impressed me once again with his incredibly creepy preformance – he really outdid himself in this one.  I'm curious to see him in Warrior Baek Dong Soo since I can't imagine him in a period piece – does he do action scenes too?  I still don't know if I can see him as a regular leading man, but I think he'll always be good in whatever role he is in.  Especially if it's a super creepy one.
Even the ahjumma's storyline was wrapped up, courtesy of Whiz Ko (Lee Hee Joon).  He actually went to her hometown to quiz the other ahjummas about her, and he found out some scandalous details about the former town beauty.  It looks like teenage Yang Seon Hui was badly envied by the rest of the town for being prim and proper, pretty, and a fan of poetry.  So the other kids did what any self-respecting jealous bullies do – they spread rumors that she was pregnant and effectively chased her out of town to Seoul.  I had already felt a little sorry for her, and this story only played on our sympathies more.  But she still went a little too far, I am thinking – what a witch!  I think this storyline was pretty interesting, playing on the way ahjummas are usually invisible, and the actress was good and scary.  And maybe she will have some solace in knowing that Whiz Ko will immortalize her in the book he's writing on a certain baseball player (could he possibly call his book Wild Romance?).  Her name will forever be associated with his which should comfort her almost as much as taking care of a Mu Yeol who can't go to the bathroom by himself.
And how could I forget Manager Kim Tae Han (Kang Dong Ho) and Kim Dong Ah (Im Joo Eun)?  They became some of my favorite characters ever, and their happy ending was very fitting with their personalities.  I'm so glad that they stayed the same bizarre people, only now they're a lot less lonely and a lot happier.  I love how in public he doesn't even have to look to know that she's arrived – people's stares and giggles are her fanfare.  She met him at a cafe in order to make one of his fantasies come true – she was wearing a hanbok with a sexy velvet tie.
I nearly died when she told him how she totally got why he was into it now.  And it was so inappropriate when he helped her tie her top back on – those two.  She then asked him to make one of her fantasies come true – she wanted him to dress up in metal, like the Terminator, and then do the robot.  It was beyond sweet when he had to laugh and they drove home, holding hands.  What a wild and bizarre romance they had.  I bet they'll go down in history as one of the great couples of all time.
The time leap now finds Kevin Jang in the civilization (a nice office) he always dreamed of, while Eun Jae has difficult clients like a little boy who wants to grow up to be unemployed.  But her biggest challenge is her next assignment – Mu Yeol (you know Kevin was playing matchmaker – thank you, Kevin!).
They are not even as awkward around each other as they should be as they go to play catch.  It seems that the time apart has calmed Eun Jae down, and she finally asks the right question: How did he know it was her?  It's the shoelaces, fool.  And then after 16 long episodes, they finally get together.  The end.
I still cannot believe how much I loved this drama – totally unexpected.  As much as I loved Manager Kim and Dong Ah, I wouldn't have loved this drama so much if the main couple hadn't been so cute and compelling.  Lee Si Young was super good as Eun Jae, carrying a wonderful drama on her strong shoulders.  Next up for her so far is a reality program, Music and Lyrics.  She boxes and sings, and still manages to act.  How multi-faceted!  I hope the low ratings haven't affected her status as a leading lady.  But she worked really well as a team with Lee Dong Wook.  I love Lee Dong Wook again – Scent of a Woman just shot up to the top of my list of dramas to watch, even if he won't be with his fool.  This drama really went with the idea that opposites don't attract – you should go for someone just like you.  Maybe there can be subtle differences – both of you might not know who Cain and Abel are, but at least one of you should know that they aren't baseball players.
Kang Dong Ho and Im Joo Eun were the cutest side couple, I think, ever.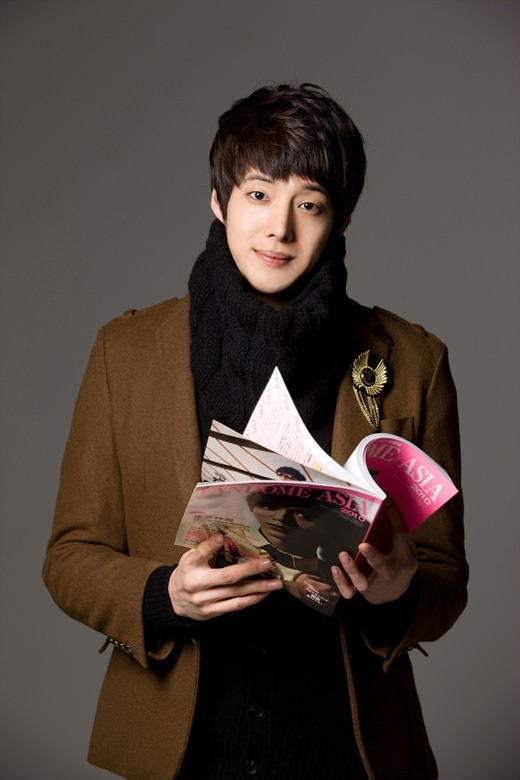 I liked the characters more than the actors, but I'm still interested to see what else they've been in or will be in.  I don't know if I like Kang enough to watch the weekend drama, Sparkling, since I've had such bad experiences with weekend dramas.  But I actually want to hear him sing more – you can totally tell that he has a musical theater background.
Now I also really want to see What's Up since I've already seen a clip of Im Joo Eun singing.  What a musical cast!  But to be honest, I'm more interested in seeing the oddly compelling Lee Hee Joon.  I had liked him for some reason in the middling KBS Drama Special A Perfect Spy where he played a sort of bad guy, so he must have something.  It would be nice to see him get a girl at some point, even if it's just as a side character.
It's always so sad when a drama you've really enjoyed finishes its run.  I actually thought this was a good ending – do you know how rare that is?  The drama was funny, sweet, and just serious enough to keep it from getting too twee – a psycho stalker/murderer really tones down the cutesiness.  And even the baseball theme wasn't as awful as I had anticipated.  I don't think I picked up any baseball knowledge or appreciation of the sport, but I can say that I am definitely a Red Dreamer for life!
Previous Episodes: